Click here for an immediate quote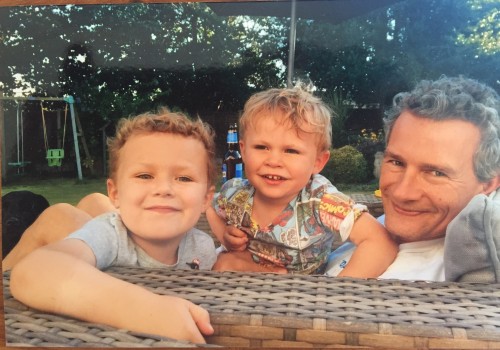 Hi, I'm Kristian!
Way back in 2006 I had just left a 12 year career in Technology recruitment to fullfill my lifelong dream to start my own business.
I had taken a huge risk, re-mortgaged my house and spent thousands of pounds on a website build to launch an online recruitment company. The website was built but nobody was using the site and money was running out. I'd tried the traditional ways of advertising: Trade press ads, online search and even a billboard campaign but traffic to my website was still next to nothing and I'd wasted nearly all my money trying to get people to my site. I'd risked my family's future on this dream and now everything was looking bleak and desperate, I went to see my bank to see if they would lend me any more money and they refused. On the way back from the meeting It began to rain as I walked towards Euston Station for the train ride home. As I hunched down against the driving rain, I noticed hundreds of city professionals outside the station all running to get out of the rain. "Why can't I just get 100 of these people to check out my business?", I though to myself gloomily. How Could I get them to look and see. It was at that point that I saw nearly all the people weren't looking at the surrounding billboards or at their smartphones but they were all looking down at the shiny wet pavement as the rain drove down ever harder. That was my lightbulb moment! What if I could get an advert on the pavement, then they would all see it! when I got on my three hour train ride back to Birmingham, it was all I could think about. How could I advertise on the pavement?
The very next day, I hired a pressure washer from a local commercial cleaning company and spent all day cleaning dirty paving slabs through hand made cardboard stencils and Clean Advertising was born! I took photos of the adverts and whilst improving the method I created a £30 home made website and ran £50 of Google Ads to the site to see if anyone else would be interestedin using this type of advertising.
Two days later, Lexis PR rang me and asked if I would be willing to do a series of adverts across the U.K for Gumtree, one of Ebays companies. They wanted to sell houses direct on their website and cut out estate agents and wanted us to advertise their services outside the doors of estate agents up and down the country. After completing the controversial campaign Gumtree were swamped with adverts and they picked up hundreds of thousands of pounds of free P.R and were even featured on good Morning Britain T.V! Immediately after my phone started ringing and companies were all asking us to advertise their businesses using the Clean Advertising method. I followed up with all of the enquiries and six months later I shut down my recruitment company and Street Advertising Services became my new business. Clients were delighted with our non-traditional way of advertising and very quickly were asking what else we could do for them…
Now eleven years on we are a U.K based team of exceptional street artists, creative technologists and experiential advertising people, delivering unique brand experiences for brand owners and agencies.
We are the most experienced provider of non-traditional outdoor advertising in the UK and Europe, offering a complete solution for promoting your brand in public spaces. Street Advertising Services has created graffiti adverts on the side of buildings, and painted and chalked dozens of pieces of 3D street art across the world for clients from Nike to Gillette, Microsoft to Visa and M&C Saatchi to Euro RSCG.
Give us a call or drop us a line and find out how we can help you stand out from the crowd and get your brand in front of more people with Street Advertising services.