Vinyl and Chalk Advertising
Chalk Advertising is an effective media for delivering your brand message onto the streets. Using a specially developed chalk spray we can stencil your advert onto specific locations for lots of consumers to view and interact with.

Alternatively our specially developed Pavement Vinyls are purpose made to grab consumers attention. They can be printed in any colour or shape and can placed and removed easily without causing mess or leaving behind residue. The adverts are waterproof, non-slip and are designed to be placed in high footfall areas.
Contact Us Today For an Immediate Quote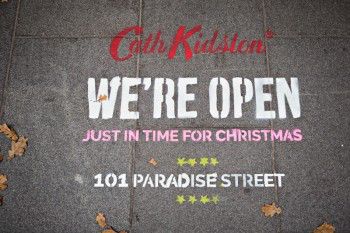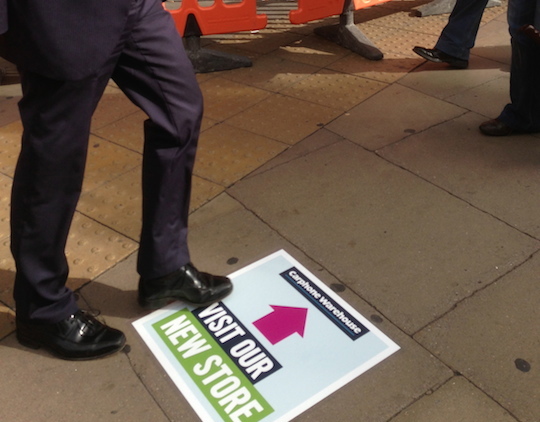 Chalk Advertising
Chalk adverts can be created in a variety of colours, will last for up to three months and won't wear away with traffic, footfall or weather. The adverts can be removed without trace when required. The adverts can be placed on any surface and unlike other company claims, our chalk is 100% non toxic and environmentally friendly. Chalk Advertising is particularly effective for public sector organisations and police forces for delivering a public message as well as being very valuable to retailers and FMCG brands for delivering an advert to the doorstep of a store. We are the only company to have delivered chalk advertising campaigns for two out of the four leading supermarkets in the UK. We can even create QR codes with Chalk Advertising.
Pavement Vinyl Advertising
Pavement Vinyls are an eye-catching professionally designed and installed media for outside surfaces. We place the adverts on any type of surface. They are waterproof, non-slip and can be printed in any colour or shape. Vinyl Advertising allows you be creative and you can showcase your brand in full colour, It is a fun way to be informative and It's an effective way to raise brand awareness.
Vinyl Advertising shows that you are more than capable of thinking outside the box when it comes to advertising methods and is a more permanent alternative to Chalk Advertising.